**Entries Closed**
I want to introduce you guys to my newest sponsor!
Take it away Natalia!
I am so excited to be here today!
Thanks Dominique for having me!
I am Natalia and I blog at
Ma Nouvelle Mode.
(It means my new style in French)
Let me introduce myself. I have kinda a funny story. My name is Natalia. I am married to a 6'7" Bahamian, born and raised, and we live in France. I know, right? Crazy. Our boys, we have two, are tri-cultural. And it is really funny to see how they have French in there and neither one of us do. Like my 4-year-old says "oh-la-la!" It is hilarious. I think I should probably stop it before we go back to the states.  
My cute boys
We live in France because my husband plays basketball here. I love to travel, learning French, being creative, and much more. Over at
my place
, I blog about crafts I have been into lately, which vary from jewelry to decoration for the house, my interracial, intercultural marriage, being a mom, beauty tips and products and whatever else comes along!
I am so happy to meet you all today that I have something for you! Yes, straight from France!! You ready to check it out?? Here ya go...
French coins and the American quarter
I love it! I wish I could keep it! But I would much more rather that one of you beautiful ladies have it!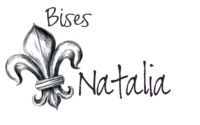 Isn't that necklace darling! I wish I could enter to win it! lol Okay so here is what you need to do for a chance to win that beauty!
Please leave a separate comment for each entry & include your email address
Mandatory:
-Become a public follower of Craft Couture {if you already are then say so}
-Blog, tweet or/and facebook about this giveaway {leave a link to it please}
{Open worldwide. Ends May, 12th at 11:59pm}